Anti Aging Creams - Ingredients Make the Difference
---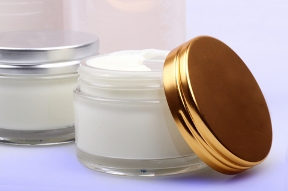 Every person over the age of 30 might want to consider using Anti Aging Creams.
Because you know the saying: prevention now, is better than cure later.
Aging is a process we can't stop, so we all get to a stage where we have to start worrying about lines, wrinkles and saggy skin.
So by using products now that are most suitable for your skin type, you can effectively slow down the visible signs of aging skin.
So get yourself familiar with the best products for your skin type.
And if you would like more information about anti ageing creams
for your skin, please feel free to contact me

Always Check the Ingredients in Anti Aging Creams
With the huge marketing promises made by the high street cosmetic companies, expectations on products are huge.
Anti ageing creams are expected to deliver a host of benefits: from reducing or even eliminating fine lines and wrinkles, to restoring your skin's firmness and elasticity.
Because good Anti Aging Creams really can make the difference!

So you want to make sure you are getting value for money.
Here's a list of some common ingredients you might want to look for when choosing the Anti Aging Creams for your skin type.

Antioxidants

Antioxidants are substances that neutralize free radicals — unstable oxygen molecules that break down skin cells and cause lines and wrinkles.
Antioxidants commonly used in Anti Aging Creams include:
Vitamin A: believed to make skin stronger and promote the growth of new collagen.
Other forms of Vitamin A include Retinol and Retinyl Palmitate
Vitamin C: Used to promote healing and stimulate collagen growth
Vitamin E: believed to protect the membranes of the cell and prevent damage to cell enzymes.
Vitamin E is useful in skin repair and in defending it from harmful bacteria.
It retains a moisture barrier which prevents the epidermis from drying out completely.
Green Tea: Used to aid skin healing, reduce large pores, fine lines and wrinkles.

Hydroxy Acids
Hydroxy Acids are acids derived from sugar-containing fruits.
The acids act as exfoliants — substances that remove the upper layer of old, dead skin and stimulate the growth of smooth, evenly pigmented new skin.
Hydroxy Acids commonly used in products, including:
Alpha Hydroxy acids(AHA) Examples include Lactic Acid, Glycolic Acid and Malic Acid.
AHAs are used to increase skin exfoliation to help reduce the appearance of fine lines and wrinkles.
Beta Hydroxy Acids (BHA) An example includes Salicylic Acid: used to maintain exfoliation, especially for Oily skin.
Poly Hydroxy Acids (PHA) Examples include Lactobionic acid and Gluconic acid.
These are very similar to AHAs but are more moisturising and less irritating to the skin


Collagen:
Used to increase skin hydration and decrease fine lines and wrinkles.
So a good Anti Aging Wrinkle Cream should be able to work on those fine lines and wrinkles.

Coenzyme Q10 (Ubiquinone)
Coenzyme Q10 is a nutrient that helps regulate energy production in cells. It's also believed to help reduce fine wrinkles around the eyes and protect against sun damage.
Peptides
Peptides are small protein fragments that work on the skin cells, helping to produce Collagen and Elastin.
The most effective peptides include Copper peptides (believed to promote wound healing, stimulate collagen production and enhance the action of antioxidants), Pentapeptides and Matrixyl.
Vitamin K
Vitamin K is known to be effective in treating broken capillaries and bruising. It is also used to treat spider veins and dark circles under the eyes.
Kinetin (N6-Furfurladenine)
Kinetin is derived from a plant that delays changes relating to aging in human skin cells.
It's believed that it can slow down cell aging, improve skin tone and decrease fine lines and wrinkles.